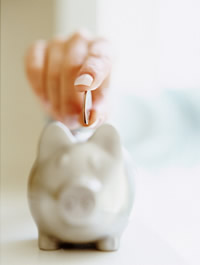 Community First Bank offers services with the flexibility
to meet your goals. From the small saver to the large investor, we have a plan designed specifically for you.
Statement, Christmas Club Savings, and Money Market Investment Accounts offer a variable rate feature. From time to time, the rate and/or service charge will change. Call us for current rate information or scroll down this page for service charge information.
We invite you to take advantage of our AUTOMATIC TRANSFER from checking to any of our savings accounts.
---
| | |
| --- | --- |
| Minimum Opening Deposit | $100.00 |
| Number of Withdrawals per statement cycle | Four (4) free in-person withdrawals. Additional $2.50 for each withdrawal after the first four. |
| Minimum Statement Cycle Balance | $100.00 |
| Fee if balance drops below minimum balance (one charge per month) | $7.50 |
| Excess electronic or in person transfers | $5.00 per item after six (6) |
---
An account from which funds cannot be withdrawn until October when the money will be mailed to you or directly deposited into another account.
| | |
| --- | --- |
| Minimum Opening Deposit | $0.00 |
| Monthly Maintenance Fee | Free |
| Early Withdrawal Fee | 1% of withdrawal |
---
Our new Maximum Money Market is a very safe place to park your money. You'll have easy access to your money, while earning interest at a great rate. The minimum balance to avoid a fee is only $1,000.00. There are check writing limitations on this account. Under Federal Regulation, transfers from a Money Market Account to another account or to third parties by preauthorized, automatic or telephone transfer are limited to six per statement cycle. If this limitation is exceeded on a regular basis, we are required to convert your account to another account that permits unlimited check writing privileges.
Minimum Opening Deposit
$1,000.00
Fee if balance drops below minimum balance (one charge
per month)
$15.00
Excess electronic or in person transfers
$5.00 per item after six (6)
Minimum balance required to obtain the stated Annual Percentage Yield (APY) and interest rate
$0.01
---
A Health Savings Account (HSA) is an account designed to help those with high health insurance deductibles to pay for current and future qualified medical expenses. This is a response to the rising cost of insurance. Employers are raising deductibles on their plans to manage costs.
Contributions that eligible individuals make to their HSA's are deductible on their federal income tax return. Employers who contribute to eligible employee HSA's can take a business tax deduction at year end.
Accessing funds from your account is done by writing a check or using a debit card. It is your responsibility to ensure annual contributions are within the allowable limits and HSA funds are spent on qualified medical expenditures. Funds that are contributed in excess or funds spent on non-medical expenses are subject to income tax and IRS penalties.
There is additional criteria you must meet to be eligible for an HSA. Call us to learn more. We will answer any questions you may have and discuss the benefits of opening an HSA with Community First Bank.
---
Star Savings Account
This account is for your children's money and deposits only. Help them become financial "Stars" and work towards a bright, independent future.
| | |
| --- | --- |
| Minimum Opening Deposit | $25.00 |
| Monthly minimum balance requirement | $0.00 |
| Monthly maintenance fee | Free |
| Number of Withdrawals per statement cycle | Twelve (12) free in-person withdrawals. Additional $2.50 for each withdrawal after the first twelve. |
| Excess electronic or in person transfers | $5.00 per item after six (6) |
| Special interest rate to show your child how money grows | |
| Age limit to open is 0-17 years. Once a child has turned 18, their account will automatically convert to a Statement Savings | |
| Note: If the balance in this account exceeds $5,000.00, the account interest rate will change to the rate of a Statements Savings Account | |