Fast, Secure, eStatements!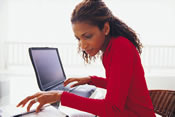 Imagine getting your statements at home or at work, on your computer, quickly, privately, and securely. Imagine the peace of mind not risking your personal information by having a statement stolen from your mailbox.
Well, you don't have to imagine it. You can have this and more by signing up for e-statements (electronic statements). Join the hundreds of customers who already enjoy this great and safe service.
Please click here for simple instructions on how to sign up.
goDough® Mobile Banking!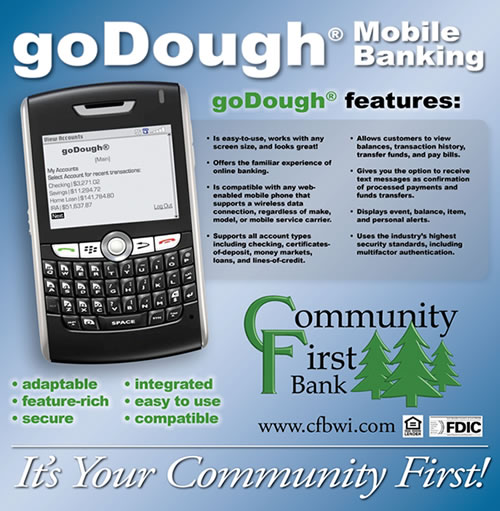 >> Click here for a larger image >>
Bill Pay It Now!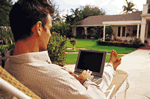 Bill Pay
Community First Bank, Working Harder to Make Your Life Easier
Bill Pay is the fast, convenient, and secure way to pay all your bills online. With our Bill Pay service, youíll save time and money. Youíll make paying bills online worry free, and make your life easier
BENEFITS OF PAYING YOUR BILLS ONLINE: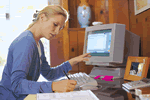 IT'S CONVENIENT:
Our Bill Pay service is always available - pay your bills any time, from any place (even your office . . . we wonít tell.)
IT'S SECURE:
To safeguard your personal information, our bill pay system uses only the safest and up-to-date software and practices.
IT'S EASY TO USE:
Read through the Frequently Asked Questions
Ask a Personal Banker to show you the product features and the
benefits it offers you.
Talk to one of our knowledgeable Representatives at 715-344-5522 (Stevens Point), 715-677-4523 (Rosholt) or 715-454-6264 (Elderon).
IT'S ON TIME AND ON THE MONEY.
Set it up for on time and accurate payments.
Discovered an issue? Call the support lines listed above. Please allow the right amount of time--usually five to seven business days, based on guidance from the individual or company you are paying--to process, schedule, and send your payment.
ITíS TRACKABLE

Bill Pay history is available for 19 months. Check the status of payments and access payment history. You also can sort by payee, date, amount and category.
Bill Pay It Now!
Discover Remote Capture with our Magic Black Box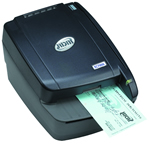 Our MAGIC BLACK BOX is a reality that gives you quick access to your cash. You no longer have to deposit your customers' money orders, personal checks, cashier's checks, and corporate checks at the bank. Our MAGIC BLACK BOX gives you secure and reliable check processing directly from your office: Your check processing is centralized with one bank. Trips to the bank and deposit slips are a thing of the past.
ADVANTAGES
$ Deposit checks right from your office.
$ Reduce check fraud with accelerated check clearing.
$ Quicker access to your funds with later deposit deadlines
$ Increase cash flow: receive credit the very next business day.
$ Eliminate multiple banks and the associated reconciliation effort and cost.

HOW IT WORKS
1. Log onto our MAGIC BLACK BOX password protected site.
2. Feed your check into the scanner and process payment.DONE!

In 2006 alone, more than six billion checks were scanned and safely processed electronically. Now you too can join in receiving the benefits. Our MAGIC BLACK BOX is simple and affordable. Call us for a free 10-minute demonstration.
Powerful, yet simple, our MAGIC BLACK BOX technology adds up to money in your pocket.