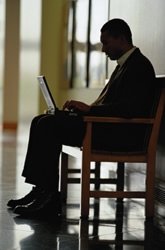 The Bank of Dixon County recognizes the importance of our responsibility in protecting our customers' private information. We have established policies and practices that respect the privacy not only of our customers, but all individuals who use our financial institution. We only collect and maintain the information needed to deliver the high level of customer service you deserve.

What Information We Collect:
We may collect "nonpublic personal information" about you from the following sources:
Information we receive from you on applications or other loan and account forms (e.g., name, address, and social security number);
Information about your transactions with us or others (e.g., information about your account balance, payment history, parties to transactions and credit card usage);
Information we receive from third parties such as credit bureaus; and
Information received when you send us an e-mail (e.g., the content of the e-mail, your e-mail address, and our response to your e-mail).
What Information We Disclose:
We are permitted under law to disclose personal information about you to other third parties in certain circumstances. For example, we may disclose nonpublic personal information about you to third parties to assist us in servicing your loan or account with us, to government entities in response to subpoenas, and to credit bureaus. We do not disclose any nonpublic personal information about you to anyone, except as permitted or required by law. If you decide to close your account(s) or become an inactive customer, we will continue to adhere to the privacy policies and practices as described in this statement.
We also take steps to safeguard customer information. We restrict access to your personal and account information to those employees who need to know that information to provide products or services to you. We maintain physical, electronic, and procedural safeguards that comply with federal standards to guard your nonpublic personal information.
Protecting your privacy is an ongoing process. We will continue to review the measures we take to safeguard your personal information. These reviews will result in new measures to protect member records, as the bank makes changes to its information security practices and other internal control systems to take advantage of new technology.
The bank intends to exercise reasonable procedures in order to assume the accuracy of our records and your personal information. We have implemented procedures to help assure that your information is accurate, current and complete, in keeping with reasonable commercial standards. You should notify us if you receive information regarding your relationship with us that you believe to be inaccurate. The information, when brought to our attention, will be corrected as promptly as possible. If you have any questions regarding the accuracy of your personal information, please contact a bank representative. We will investigate your issue and update your records as needed.

We request that you keep your personal information including address and contact information as current as possible. This will allow us to give you our best, prompt service. If you use e-mail, please make sure we have your address and that you inform us of any e-mail address change as e-mail is often the quickest way to communicate with you.
If you have any questions about our policy
or the privacy of your information please let us know.