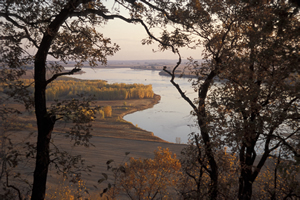 Quality of Living
We can not fully explain it. You have to see for yourself, but the beauty and friendly lifestyle in our area is second to none. Our area offers small town quality of living with great schools and activities, dozens of recreational opportunities and outdoor beauty everywhere. And, we are only minutes to colleges, the city and shopping.
We like to say we have the best of both worlds. The best way to learn about our area is to check out the photos and scroll down to see for yourself.
Beautiful Location
You won't find a more beautiful area than the rolling wooded Missouri River bluffs in northeast Nebraska. One visit to Ponca State Park and you will understand.
"Where people and nature meet."
One of Nebraska's Top outdoor recreation and tourism attractions. The 2,500 acre Ponca State Park hosts more than 600,000 visitors each year. New things are being added each year including a new remote group campground and kayak-canoe launch area and additional lodge-style cabins.
The Park's reputation is built on outdoor education as Park Naturalists provide dozens of outdoor programs and activities every weekend, and throughout the seasons.
Camping
Boating
Towers in Time
Hiking
Kayaking
Elk Point Bend Wildlife Area
Cabins
Outdoor Expo
Naturalist Programs
Swimming
Horse Rides
Outdoor Activities
Biking
Conference Center
National River Exhibit Wing
Food, Catering
Shelter Houses
USD Missouri River Institute
Business Groups
School Groups
Tri-State Overlook
Golf Course
Missouri National River Resource & Education Center at Ponca State Park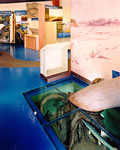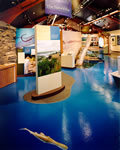 The Park's new Missouri National River Resource and Education Center boasts 17,000 sq. ft. of educational opportunities including its Missouri National River interpretive wing constructed by the National Park Service. You will learn all about the activities, nature and history of this spectacular Missouri National Recreational River region.
Hands-on classrooms, the Library and modern convention facilities complement the Center which can host groups as large as 400 people. Catering and full group and business meeting services with high speed internet are available.
You can combine your group meeting with outdoor activities, a naturalistic program, kayaking, golf, swimming, horse back riding, boating and more.
Towers in Time at Ponca State Park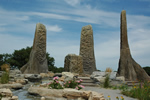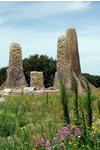 Standing at the entrance of Ponca State Park is the magnificent Towers in Time art sculpture, patio and waterfalls. Three spectacular 27 foot Towers display the three primary eras of natural wildlife history in the region while the four eras of man's development are depicted under the center water feature and surrounding falls.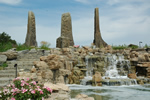 Towers in Time is the masterpiece work of Jay and Dean Tschetter, brothers from Lincoln, NE and Los Angeles, CA. The Towers are likely the largest single gift of art even donated to the State of Nebraska.
Highland Oaks Golf Course at Ponca State Park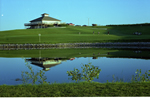 Highland Oaks is a scenic 9-hole regulation course in rolling hills and dense wooded bluffs. There are three sets of tees from beginner to those seeking a real challenge. Spectacular three-story clubhouse overlooks the course and lake on the eight and ninth holes. Full bar, lounge, meeting and meal facilities are offered. Highland Oaks is located two miles north of Ponca at the entrance of Ponca State Park. The city owned course is located on state land and is operated by a local non-profit corporation of members. The course is open to the public. We promise you will never have played more beautifully maintained fairways or more perfect large greens. 402-755-4442
Elk Point Bend Wildlife Area at Ponca State Park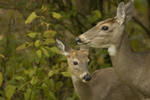 The north portion of Ponca State Park includes a vast 1,400 acre wetlands wildlife area with walking trails, viewing areas and backwater kayak and canoe areas. A new remote group campground and river access point for kayaks and canoes is also being added in 2007. The spring and fall migrations offer an opportunity to view tens of thousands of ducks and geese in a sight you will never forget. 402-755-2284
Missouri River Outdoor Expo at Ponca State Park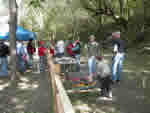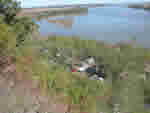 Each September on the first weekend of autumn Ponca State Park and the community of Ponca and regional volunteers host the Missouri River Outdoor Expo along with the Nebraska Game & Parks Commission and professional outdoor sponsors. The event draws more than 40,000 visitors each year.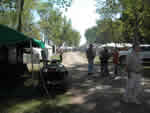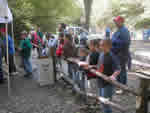 There are dozens of outdoor events, activities and hand-on experiences from hunting, fishing, bow and arrow shooting to camping and dutch oven cooking to boating and kayaking. There is something for everyone at this Expo. It is a great chance for families to learn to enjoy the many outdoor activities and recreational opportunities that abound in this area. Hay racks shuttle visitors to each venue throughout this magnificent 2500 acre State Park.
402-755-2284
Hallowfest at Ponca State Park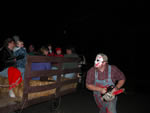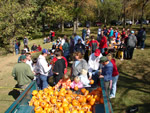 Two weekends in early October the Park celebrates Hallowfest filled with family and kids activities and events like pumpkin rolling and outdoor meals.
Haunted Hayrack Rides through the Park's dark wooded hills are the main attraction for over two thousand guests each year. Be sure to call ahead for reservations. The Hallowfest Hayrack Rides are sold out every season. 402-755-2284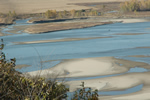 The lower 59-mile stretch of the Missouri National Recreation River designated by Congress in 1978 begins at Yankton, SD and ends at Ponca State Park. Here you will see the largest free-slowing river in North America with a width nearly a mile wide in places. It is a beautiful, exciting stretch of River for kayakers, bird and nature watchers and any outdoor enthusiast.
The stretch is significant because it lies below the last of the five Missouri River dams and above the channelized commercial portion of the River downstream. This unique stretch meanders and moves, its lives, much as it did at the time of the Lewis and Clark Corps of Discovery Expedition two hundred years ago.
Ponca State Park offers both cabin lodging and camping. Cabins are available although reservations are required and cabins fill up quickly each year. New lodge-style year round cabins are now under construction. You can check availability and reserve rooms on the Nebraska Game & Parks Commission website or by calling 402-755-2284.
Area Motels - Many national brands and other motel and hotel choices are also available in South Sioux City, NE and Sioux City, IA only 10 minutes from Jackson and 20 minutes from Ponca and Ponca State Park. Motels are also available in Vermillion, SD which is home to the University of South Dakota 15 minutes from Newcastle, and 25 minutes from Ponca.
Restaurants
Legacy, Newcastle 402-355-3555
Granny's, Willis 402-632-1957
The Lariat Bar & Grill, Jackson 402-632-8830
Village Inn, Allen 402-635-2063
The Buzzsaw, Waterbury 402-638-2529
River Time Resort, Bar & Grill, campsites on the Missouri River east of Ponca 402-755-2125
Outlaw Pizza, Ponca 402-755-2223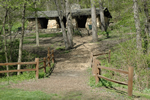 It may start with Ponca State Park and the Missouri National Recreational River, but there is also Buckskin Hills and Powder Creek Wildlife Management Areas and their lakes. Hiking and biking trails, camping, hunting and fishing, world-class birding, boating and kayaking, outdoor naturalist programs and activities, rustic cabins, swimming and horse riding . . . what are you looking for? If its outdoors, we probably have it.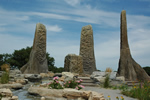 Beyond agriculture and the extensive job base provided in the Sioux City tri-state metropolitan area, our number one industry is recreation and tourism highlighted by Ponca State Park and the Missouri National Recreational River.
As the Park's attendance grows beyond 600,000 annually the awareness and opportunities of the Missouri National River expand bringing new business opportunities. The Bank of Dixon County has played an instrumental role in the development of these resources.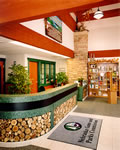 The Missouri National Recreation River region around Ponca and specifically Ponca State Park were named in a recent tourism and recreation study done for the State of Nebraska as one of Nebraska's Top 5 opportunity areas for growth.
For More Information go to www.VisitPonca.com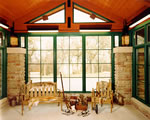 The Missouri National Recreation River region around Ponca and specifically Ponca State Park were named in a recent tourism and recreation study done for the State of Nebraska as one of Nebraska's Top 5 opportunity areas for growth.
The Bank of Dixon County is actively involved in economic development in each of our communities. We can assist with all types of new business development or existing business purchases with a mix of lending tools and economic incentives.
Give us a call and we will build a team of people to begin working with you immediately. Our area is a growing tourism and recreation area and new business opportunities are expanding or developing each year.
You will find few areas anywhere in the mid-west with the educational choices and opportunities available in our area. From pre-school and elementary to our area high schools, you get the quality of small school instruction valued throughout the country.
Equally important today within thirty minutes of home, higher education college and tech school choices exceed that of most other communities.
Ponca Public School K-12
Jackson Elementary K-6
Allen Public School K-12
University of South Dakota; Vermillion, SD
Wayne State College; Wayne, NE
Morningside College; Sioux City, IA
Brian Cliff University, Sioux City, IA
Northeast Community College, South Sioux City, NE
Western Iowa Community College, Sioux City, IA